Children:
Speech impediments are an apparent and inhibiting disorder striking the youth of today. Correlating closely to hearing loss, and often a direct result, 4,560 children suffer from some degree of speech-language disorder. Like hearing, these difficulties, restrain a child's potential academically, lead to social isolation and poor self-esteem. These children are more likely limit their expectations, withhold thoughts and opinions, and refrain from social activities for fear of embarrassment. Sometimes this leads to psychological distress. When possible, speech-language problems should be targeted as early as possible, in an effort to reduce the future side-effects of such disabilities.
Speech Therapy may include: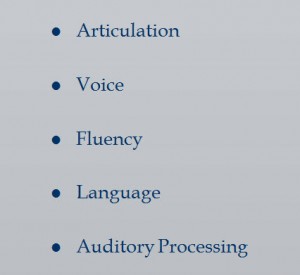 If your child is between the ages of birth to 3 years old you may qualify for services through BabyNet.  Please call them at 864-225-6465 if you are interested in services through BabyNet.
If your child is 3 years or older speech services can be received through your local school district.  Call the School District office that is zoned for your address to find out where you would pursue speech services for your child.